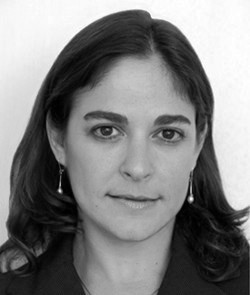 FRIDAY NIGHT DINNER & LECTURE WITH
CAROLINE
GLICK
JERUSALEM POST
NOV.12, 2010 
She's been called a brilliant journalist, political thinker, moral critic and courageous fighter.
She served for five and a half years as an officer in the Israel Defense Forces, including a two year stint as IDF captain, where she was a core member of Israel's negotiating team with the Palestinians.
She worked as assistant to the director general of the Israel Antiquities Authority and as assistant foreign policy advisor to Prime Minister Binyamin Netanyahu.


She covered the US led war in Iraq as an embedded journalist with the U.S. Army's 3rd Infantry Division, reporting for major US and Israeli news outlets; the only female journalist on the front lines with the U.S. forces.

She attained a Master's degree in Public Policy from Harvard University's Kennedy School of Government, and she serves as the senior fellow for Middle Eastern Affairs at the Center for Security Policy in Washington, D.C. She travels several times a year to the U.S. capital for briefing senior administration officials and members of Congress on issues of joint Israeli-American concern.


Since, March 2002, she is the deputy managing editor of The Jerusalem Post, writing two weekly regularly syndicated columns.


She is the author of Shackled Warrior: Israel and the Global Jihad.
She's produced a compendium of remarkable essays that had appeared in publications like the Jerusalem Post, The Jewish Press, the Wall Street Journal, National Review, the Boston Globe, the Chicago Sun Times, the Washington Times, and other leading magazines.
In the words of R. James Woolsey, former director of U.S. Central Intelligence, her essays are "straight-from-the-shoulder prose along the lines of the writings in the 1930s of George Orwell and Winston Churchill, but on today's manifestations of the issues those men confronted so brilliantly."
She's Caroline Glick.
 And she will be at Chabad of Westmount on Friday evening, November 12, 2010.
Come, join us for an extraordinary Shabbat with an extraordinary woman.